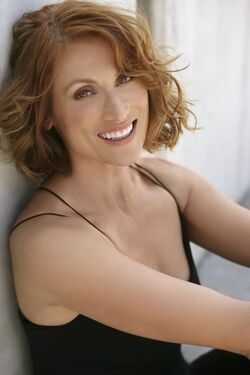 Nancy La Scala (born June 16, 1965) is an American actress and model. She's half Polish and half Italian. Her most notable role was in Species II (1998) as a Debutante Marcy, who was impregnated by an alien (Patrick Ross) and gave birth to an alien baby and killed.
Model career
Edit
At a young age, she traded her humble beginnings of upstate farm life for Europe and New York City, walking the runways for YSL, Givenchy, and Christian Lacroix, not to mention countless editorials for Vogue Italia, L'Officiel, and Marie Claire. Amongst her favorite photographers to work with was Helmut Newton as a 'Big Nude.' Their highly-praised collaboration can be seen on the introductory page of TASCHEN's Helmut Newton: Polaroids.
Acting career
Edit
Nancy has consistently landed roles alongside the best of the best in films like "Guardian", "In the Cut", and the Venice Film Festival Golden Lion-nominated "Vegas: Based on a True Story", which earned her a Best Actress nomination at the 2009 Tribeca Film Festival for her performance as Tracy. The work just kept coming after she got her big break in the MGM cult classic, "Species II".
From award-winning films (Courting Chaos, Best Comedy, Hollywood Reel Independent Film Festival 2014) to award-winning plays (The Importance of Being Earnest, Producer's Encore Award, Hollywood Fringe Festival 2014), Nancy has a keen eye for great scripts, be it stage, screen, or television.
She became a familiar face on television from her numerous appearances on shows like "Criminal Minds", "Castle", and "Nip/Tuck". You may also recognize her thanks to a steady string of commercial roles (Acura, Macy's, Ikea, Pond's, Verizon).
Height: 5' 9" (1.75 m)
Nickname is La La
Nancy is also a devoted animal lover; inspired by her own adopted pit bulls, she created Throw Your Dog a Bone, a line of high-end pet products.
She's half Polish and half Italian.
She was born in Buffalo, New York, USA